FULL LENGTH PLAYS


The Quadroon and the Dove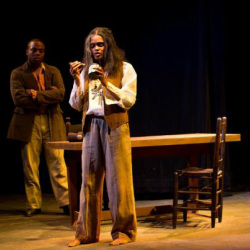 Blues lament which opens the play:
Deep in the bayou,
when childs is born,
and secrets silence,
the pact is sworn.
Womens lie with men forlorn,
hearts and bodies lay tattered, torn.
You best be watchin',
take care, no scorn,
cuz shrouded bonds brings much to mourn.



In 1840 New Orleans, Clarice, a free woman of color mistress to Lucien, a wealthy French Creole, obsesses and schemes to have Lucien bound to her alone, in a life away from repressive laws and intruding paramours. As the Quadroon Ball approaches, she sees her life spinning out of control as Lucien's desires for new love and family intertwine with a growing slave uprising.

* Charisse Norment as Sage-femme and Willie Derrick as Charliesmith in the University of Memphis developmental production directed by Paul Revaz.


---
Covenants, With a Sword (currently in development)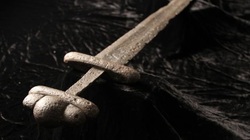 Song which opens the play:
Purtiest shoutin' ever I heard, Way over on da hill
Da angels shout and I shout, too
Shoutin' with a sword in my hand.
Purtiest mournin' ever I heard, Way over on da hill
Da angels mourn and I mourn, too
Mourin' with a sword in my hand.


Some secrets are better left buried. But for Lasea Wright bringing peace to her family is more important than the past. As the fight for black heritage rages present-day New Orleans, and in 1965 in the embrace of civil rights, two worlds threaten to collide with secrets that could destroy a family...or bring it together.


---
Come to My Window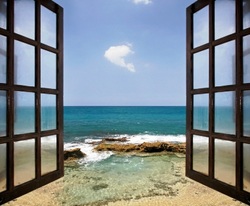 Nursery rhyme in the show:
Come to the window, my baby with me,
and look at the stars, that shine on the sea.
They are two little stars that play bo-peep,
With two little fish far down in the deep.
And two little frogs cry "Neap, neap, neap."
I see a dear baby that should be asleep.




Psychiatrist Lee promised her teenaged daughter, Annie, a summer to re-connect, away from patients...all but one patient: Brona who only wants someone to love her, to call her own, to sit with her beside the sea. After a childhood of horror, Scott presents the answer to Brona's dreams...but all is not what is seems as Scott's need for perfection propels them both into a night lost somewhere in the recesses of Brona's mind. With guidance from Lee, Brona slips back through her memories, but what will the shocking discoveries hold for Brona, Annie, and Lee?


---
Trinity (currently retired)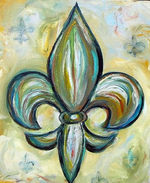 We all know the headlines: Hurricane Katrina - August 29, 2005 - families stranded on roofs, coffins and bodies floating in the streets, people crying out for water and for a government to pay attention, to help. That day in New Orleans was a delineation mark between what was and what is in this haunted city that Trish Landry calls home, a home she never wants to leave, despite logic to the contrary. Trish's journey through that week, along with seven friends, focuses a light on a deep pain which inhabits her heart and her life.

---