Charlene A. Donaghy LLC
"Charlene writes stories that give voice beyond the boundaries of race, sex, or privilege, painting pictures of human conditions, taking her audiences on journeys through the gift and magic of her words." Jackie Davis, Artistic Director, New Urban Theatre Laboratory, Actor
---
NOMINATION: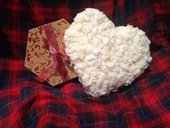 2016 Connecticut Playwright of the Year
By BroadwayWorld.com

Charlene A. Donaghy
Joanie and Freddie on Valentine's Day


​
​Joanie and Freddie on Valentine's Day is dedicated to Charlene's mom and dad, Joan and Fred George, and their eternal love. In 2017, they celebrated their 62nd wedding anniversary. When her mom was in 4th grade, her dad, being the rambunctious boy that he was, pushed the red-headed Joanie into a snow bank. That act of youthful exuberance is what inspired this play. And although the rest of the story is a coming together of fact (her grandparents did divorce) and fiction (this Valentine's Day lives in Charlene's imagination), the love that is just beginning in this play is true to what her parents are and what they forever share with their family.
---
---
UPDATE: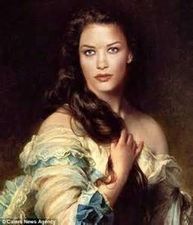 The Quadroon and the DoveProduced by Madison Square ProductionsWilliam Brown, Producer
www.thequadroonandthedove.com2017New York, NY
​Binder Casting
, who casts many Broadway productions ranging from
The Lion King
to
A Gentleman's Guide to Love and Murder
to
39 Steps
and more, has signed on as casting agent for readings of
The Quadroon and the Dove
in
New York City, at The Player's Club.
For more information please visit:
www.thequadroonandthedove.com
New Orleans, 1841.
As a January cold snap settles over New Orleans, Clarice, a free woman of color Quadroon placée to Lucien Boudet, a wealthy white Native Creole industrialist, prepares to attend the upcoming and extravagant Quadroon Ball. 15 years have passed since Clarice was presented to Lucien at such an event and she has since led a life of status and privilege. Only in silence, Clarice contemplates if the price she has paid for such a life is yet another form of slavery. She urgently longs to live a life of true freedom, far away from repressive laws and intruding paramours...even as deep secrets and dark lies bubble below the murky, mysterious waters of the Louisiana bayou.
As the Quadroon Ball rapidly approaches, those secrets fuel betrayals and threaten the delicate balance of this provincial world poised on the precipice of change. As Lucien's lustful desires collide with a looming slave uprising, Clarice fights to maintain the life she has so carefully forged while striving to protect her young, teenaged niece Juliette, known as Dove…and to maintain her very sanity.
Riveting, fast-moving and historically accurate,
The Quadroon and the Dove
is a powerful, poetic story that resonates with prevailing struggles we continue to confront in society today. Strong themes of race, gender and power are presented by a cast of six characters that you will stay with long after you leave the theatre.
---
---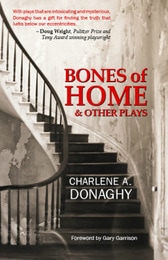 PUBLICATION:
​Bones of Home and Other Plays
Hansen Publishing Group
I explores characters submerged in challenges ranging from a bad economy, to crime, loss of loved ones, and displacement. Miriam, the protagonist of the title piece,
Bones of Home,
has lost her long-time partner. As she contemplates a bottle of wine and sleeping pills, onto her dilapidated porch sneaks Dillon, hoping to steal away back to New Orleans to "…at least be close so I can talk to [my parents] and they hear me in the oaks and along the river and in a drafty old Treme cottage where maybe I can hide out as long as I need to feel them." Across age and race, where the fear of loneliness is deeper than the fear of death, Dillon pushes Miriam with "You live, you keep this house alive, keep Jessie alive." As she hears Dillon drive away in her 1969 truck, the audience is left to ponder Miriam's choice as the lights fade on her and her decision.
Donaghy is a fearless explorer of human nature. Whether her characters live in New Orleans on a set of concrete steps, on a dilapidated porch in Provincetown, or even on another plane of existence, they never cease to ask the big questions…and the answers always come from the heart.
Kate Snodgrass, Artistic Director, Boston Playwrights Theatre
---
---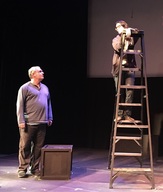 RECENT PRODUCTION:

Sliding

The Warner International Playwrights Festival
​Producing plays that engage and entertain audiences through exploration of the human experience and the human spirit.
58 Main Street, Torrington, CT

​Family. In an ideal world family brings happiness in loving, caring, connected warmth. Misfortunes, we hope, only strengthen that bond. But as the economy spirals downward, as estranged father and daughter face hard times separately. Will the downturn in the economy force them to face their own relationship?​
---
---