Charlene A. Donaghy LLC
"Charlene writes stories that give voice beyond the boundaries of race, sex, or privilege, painting pictures of human conditions, taking her audiences on journeys through the gift and magic of her words."
Jackie Davis, Artistic Director, New Urban Theatre Laboratory, Actor
---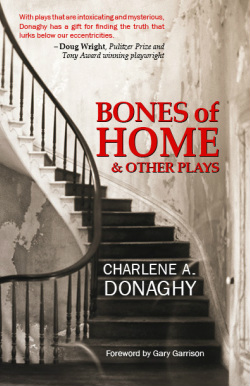 PUBLICATION:
Bones of Home and Other Plays
Hansen Publishing Group
I am drawn to New Orleans splendor and her decay. And as any New Orleanian or adopted child of the city knows, there are many times when splendor and decay intertwine.
Bones of Home and Other Plays
weaves these together with history and present day, sometimes spiraling out from New Orleans center like the delicate threads of a web.
Charlene A. Donaghy, Introduction
Donaghy is a fearless explorer of human nature. Whether her characters live in New Orleans on a set of concrete steps, on a dilapidated porch in Provincetown, or even on another plane of existence, they never cease to ask the big questions…and the answers always come from the heart.
Kate Snodgrass, Artistic Director, Boston Playwrights Theatre
---
---
UPCOMING PRODUCTION: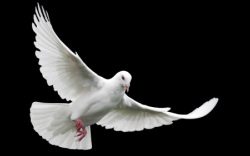 The Quadroon and the DoveProduced by Madison Square ProductionsWilliam Brown, Producer2017New York, NY
New Orleans, 1841. As a January cold snap settles over the busy port city, Clarice, a free woman of color and mistress to Lucien, a wealthy white Native Creole, prepares to attend the Quadroon Ball. At these extravagant events, young, light-skinned, African-American women are presented to be taken in plaçage, a form of accepted infidelity that is not only accepted but even expected of certain gentlemen of society. Clarice was presented to Lucien at such an event fifteen years ago and has led a life of status and privilege while raising the young quadroon, Juliet, as her own. Only in silence, does Clarice contemplate whether or not the price to pay for such a life is yet another form of slavery. She longs for a better life for Juliet and to have Lucien bound to her alone, in a life truly free and far away from repressive laws and intruding paramours, even as secrets and lies bubble below the murky waters of the Louisiana bayou.
With the Quadroon Ball rapidly approaching, those secrets fuel betrayals and threaten the delicate balance of this provincial world poised on the precipice of change. As Lucien's lustful desires collide with a growing slave uprising, Clarice fights to maintain the life she has so carefully forged.
Told with poeticism and clarity through a cast of six incredibly talented actors,
The Quadroon and the Dove
is a powerful and historically accurate story that resonates with prevailing struggles we continue to confront in society today. Strong themes around race, gender and power are presented by a cast of characters that has never before been seen on stage or screen.
---
---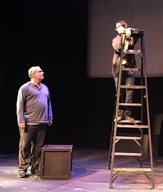 RECENT PRODUCTION:

Sliding

The Warner International Playwrights Festival
​Producing plays that engage and entertain audiences through exploration of the human experience and the human spirit.
58 Main Street, Torrington, CT

​Family. In an ideal world family brings happiness in loving, caring, connected warmth. Misfortunes, we hope, only strengthen that bond. But as the economy spirals downward, as estranged father and daughter face hard times separately. Will the downturn in the economy force them to face their own relationship?​
---
---
RECENT PRODUCTION:

Freak Out

Towne Street Theatre
L.A.'s Premiere African-American Theatre Company, Celebrating 23 years in 2016
8th Annual 10 Minute Play Festival - Celebrating Women
Stella Adler Theatre, 6773 Hollywood Blvd., Los Angeles, CA

Three old friends lived through their tumultuous teens in the 1970s, their blossoming twenties in the 1980s, growing into their own as thirty-somethings in the 1990s, and now, as the decades whisk by at break-neck speed, turning fifty is about change and acceptance...or is it? When one friend holds onto the past, do the others want to bring her to the present for her...or for themselves?
---
---