TEN MINUTE PLAYS:


Italian Now

We live in a world where your next-door neighbor can be a terrorist and, because of that all-too-real fact, trust is hard to come by. For Fadi and his cousin Mahmud, that reality comes crashing in just as they are starting a new life with a Middle Eastern restaurant, cooking with their family, bringing to life the old-country recipes of their grandparents. But, when yet another terrorist attack befalls the United States, identity and safety come into question with choices forced by the reality of terror.

---
Freak Out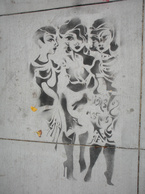 Three old friends lived through their tumultuous teens in the 1970s, their blossoming twenties in the 1980s, growing into their own as thirty-somethings in the 1990s, and now, as the decades whisk by at break-neck speed, turning fifty is about change and acceptance...or is it? When one friend holds onto the past, do the others want to bring her to the present for her...or for themselves?




---
White Bra with a Pink Bow

It is 1972 - the year of Olympics, Billie Jean King, The Partridge Family...and Vietnam. Becca and her friends are entering eighth grade and should be flying high on popularity and first crushes. But Becca made a promise to her dad, a promise she desperately wants to keep even as life propels her forward. With one simple piece of clothing, Becca and her friends confront a terror that haunts them as they try to move forward.



---
Broken Wings on St. Maurice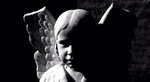 Trey was always Maggie's hero but that was before the home they loved as children truly became the city that care forgot. As Maggie longs for a safe cocoon, Trey struggles to find a haven for them both. On this Fat Tuesday evening, as the setting sun turns everything a dusky grey, memory and truth collide on broken wings, and "safe" may be a fragile connection.


---
Bones of Home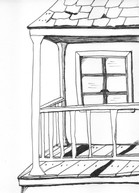 An old woman, a young man: strangers separated by years, ideals and desires, yet drawn together by loss which seems insurmountable. Miriam's loss may propel her to close the curtain on her life which no longer holds the comfort of old homes and long love. Dillon's could send him home to a drafty old Treme cottage in New Orleans where he might whisper to the ghosts of his dead parents. Their meeting, on a neglected porch in Provincetown, Mass., could change them both.
*Illustration by Cynthia Secof Hersch
---
Proverbs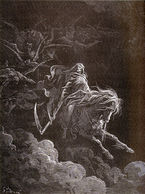 "Like Tony Kushner writing Angels in America - and you know he is the only man who could write that - when something is this well done you sit there and say 'Of course.'" Mark Bly, Senior Dramaturg and Director of New Play Development at the Alley Theatre, Houston Texas.,

In 1927 New Orleans, the powers-that-be make a decision to blow the levees to save the city, at least that is how they see it. Claude is hell-bent on stopping them and while he tries to entice Eulalie to help, her only concern is getting home to see her long-estranged daughter to try to make things right. The mystery of good and evil come into question with the power resting in the hands of a crazy-eyed Horse-man as the horse-drawn streetcar on which they all ride becomes a prison where sins must be atoned.


---
Sliding

Commissioned by Three Tattoos, New York, NY

Family. In an ideal world family brings happiness in loving, caring, connected warmth. Misfortunes, we hope, only strengthen that bond. But as the economy spirals downward, as estranged father and daughter face hard times separately. Will the downturn in the economy force them to face their own relationship?

---
Who You Got to Believe
"It is truly one of the best examples of a ten minute I've read." Robert Boles, Director, University of New Haven Theatre Program, NPP Playwriting Chair, Kennedy Center American College Theatre Festival, Region 1
"...completely in keeping the the character of the people of New Orleans." Red Cross Volunteer, New Orleans, LA

It is human nature to hold on to and fight for home, even if a structure no longer exists. For slightly-touched, elderly Kathleen, who returns to New Orleans four and a half years after Hurricane Katrina, a set of forlorn concrete steps epitomizes home. With stubborn resolve she refuses to leave. She is visited by tender-hearted, elderly Ray who has been helping re-build New Orleans. He pleads to get her to safety as they struggle with their hope, belief, and the true meaning of home.
* Sheilagh Weymouth** and L.B. Williams** in Estrogenius production directed by Zoya Kachadurian in New York City
---
Everything has a Season

Why would anyone chose death over life? Human nature tells us that would be insane yet fear is a wicked master. As Roger and Benny prepare to leave their summer haunt in Provincetown, Massachusetts, the autumn might signal more than an end to a season: it could signal the end of their love or the end of one of their lives. It could also usher in a new beginning, if only Benny would listen to Roger's pleas to fight his HIV and live.


---
The Perfect Job

Two women, old friends. One living on ketchup po-boys in a neglected New Orleans walk-up. The other living the good life with the perfect job at a Boston bank. Yet the one thing they both want seems out of reach. After two decades and nearly two thousand miles, can they come together to form the bond they both desire?


---
Fading Ghost, Stark Reality

In the early 1980's, the time of Urban Cowboy, puffy pink bridesmaid dresses, and the loss of an icon, Becca's life is spinning around the stark reality of a life-threatening breast cancer diagnosis...and she is only twenty-four years old. This frightening diagnosis propels her into a safe haven within the embrace of a prince. However, as she prepares for her wedding day, an old ghost returns to haunt her decision.

---
Wing Man in Clouds

Two football buddies in New Orleans for a big game with LSU and, of course, they head out for a night of carousing on Bourbon Street: so cliché, so normal. But, what is normal? For that matter, what is desire? And what happens when these two concepts, desire for the norm, collide in this dark comedy about one of the last social taboos in the country?
---
.

** AEA